HNUB TIM 12 LUB 1 HLIS NTUJ 2010
muaj av qeeg nyob Haïti


Le tremblement de terre de mardi a fait d'énormes dégâts. Le Premier ministre avançait le chiffre de 100 000 morts.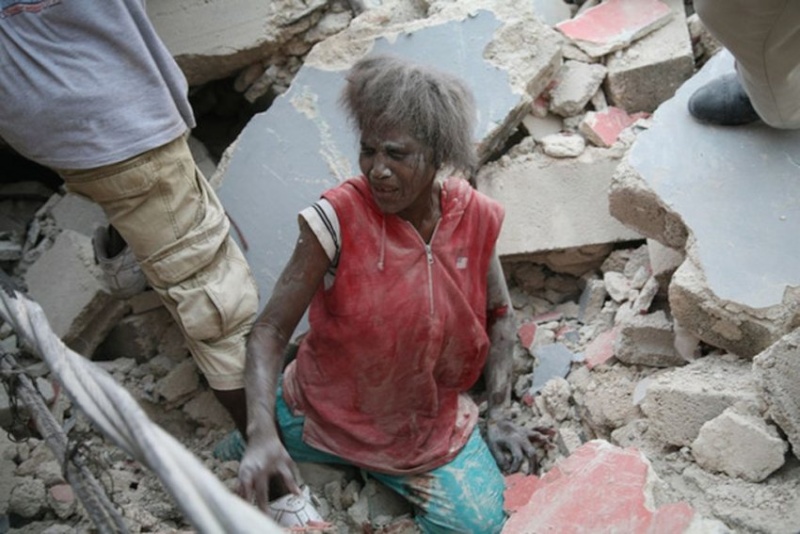 Des corps à même le sol sur des dizaines de mètres, d'autres
ensevelis sous des masses de béton : Port-au-Prince ressemblait hier à
un immense champ de bataille, après le séisme et ses puissantes
répliques qui ont terrorisé la population haïtienne. D'aucuns verront
dans ce séisme de magnitude 7 les affres d'une malédiction pesant sur
cette île des Antilles.
De l'esclavage aux coups d'État à répétition, de la dictature
Duvalier et ses tontons Macoute à la famine et à la corruption version
Aristide, Haïti, encore récemment frappée par un cyclone, doit
aujourd'hui faire face à la pire des catastrophes. Les dégâts sont, en
effet, « inimaginables », selon le mot du président Préval, tandis que
le Premier ministre évoquait hier plus de 100 000 morts.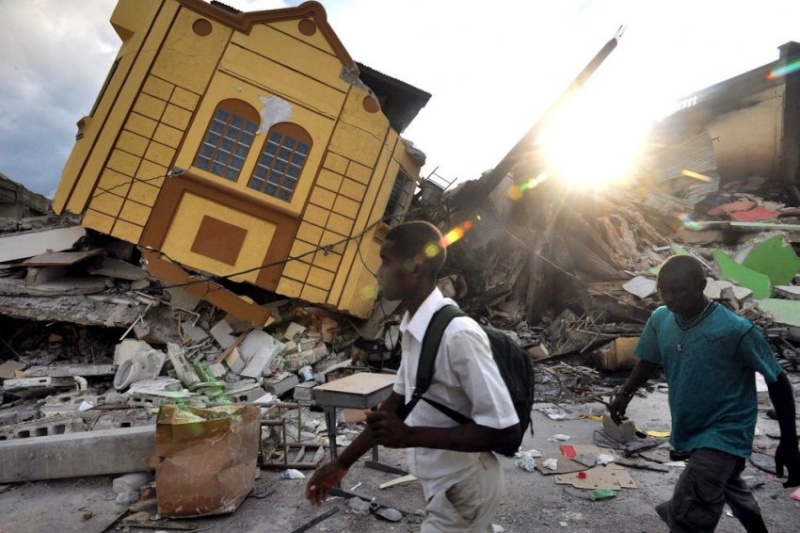 La montagne a paru s'effondrer » résumait hier Emmet Murphy, chef
de mission d'une ONG. Le courant a été coupé, les communications sont
interrompues, de nombreux édifices - dont le quartier général de l'ONU
dont le chef de la déléguation a été tué, le parlement ou la cathédrale
- se sont effondrés.
L'aéroport est heureusement opérationnel. À la crainte de
glissements de terrains, la population est également confrontée aux
pillards. Le chaos est total…
Pour aider Haïti à faire face à cette catastrophe, la communauté
internationale se mobilise. Barack Obama, en voisin, comme Nicolas
Sarkozy, ont promis d'agir tandis que l'ONU va lancer un appel
international d'aide aux victimes. La Croix-Rouge se prépare à secourir
quelque 3 millions de sinistrés et la Banque mondiale va débloquer 100
millions de dollars en urgence.
_________________________________________________________________________________
The earthquake on Tuesday was enormous damage. The Prime Minister went on the figure of 100 000 deaths.
Bodies on the floor in tens of meters, other
buried under masses of concrete: Port-au-Prince was like yesterday
an immense battlefield, after the powerful earthquake and its
replicas that have terrorized the Haitian people. Some will
in the earthquake of magnitude 7 in the throes of a curse on
this Caribbean island.
From Slavery to coups repeated, dictatorship
Duvalier and his Tontons Macoute famine and corruption version
Aristide, Haiti, most recently hit by a hurricane, should
now facing the worst disaster. The damage is in
Indeed, "unimaginable" in the words of President Préval, while
Prime Minister yesterday spoke of more than 100 000 deaths.
The mountain seemed to collapse, "summed up yesterday Emmet Murphy, Chief
mission of an NGO. Power was cut off, communication is
interrupted, many buildings - including the headquarters of the UN
whose chief delegate has been killed, parliament or the Cathedral
- Have collapsed.
The airport is happily running. In fear of
landslides, the population is also faced with
looters. The chaos is total ...
To help Haiti deal with this disaster, the community
international involvement. Barack Obama, as a neighbor, like Nicolas
Sarkozy, promised to act while the United Nations will launch an appeal
International assistance to victims. The Red Cross is preparing to help
some 3 million people affected and the World Bank will release 100
million in emergency.